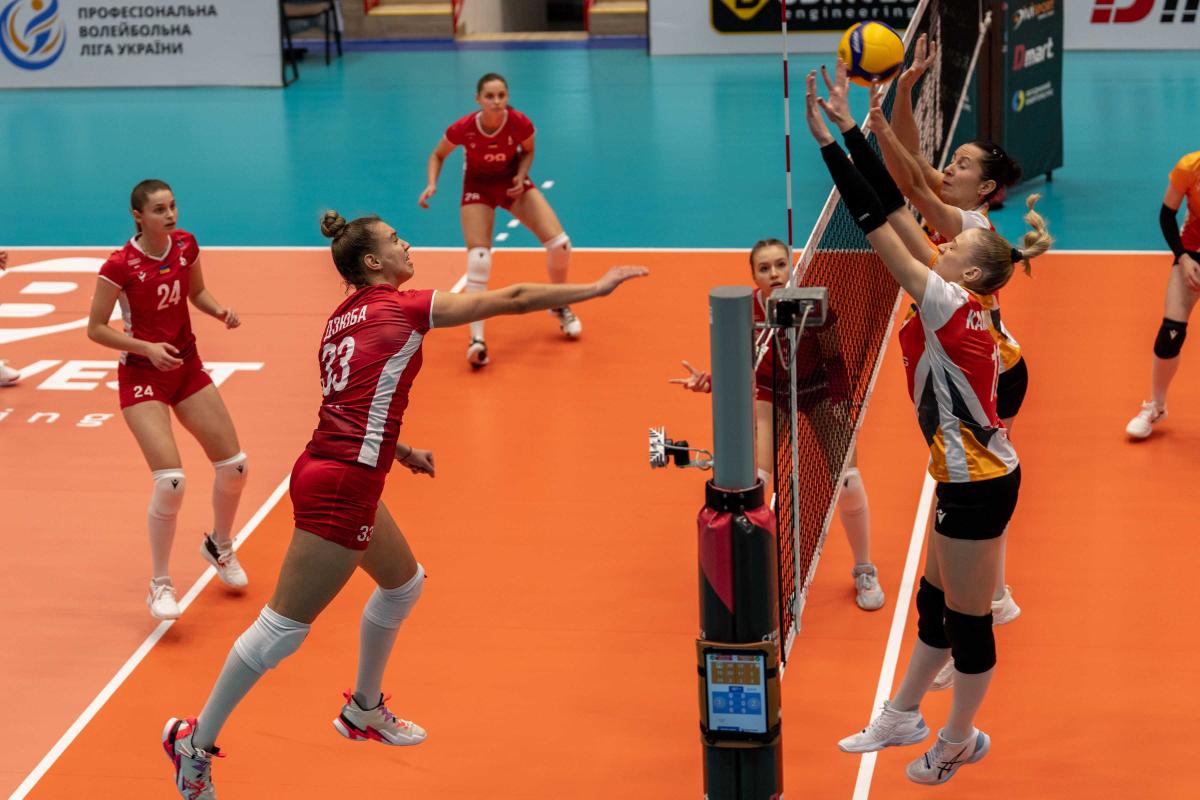 Super League-Dmart. 5th round
Chernivtsi SC "Malenkyi Paryzh". December 1
SC "Prometey" - "Alanta" 3-0 (28:26, 25:22, 25:23)
The central match of the 5th round of the Super League-Dmart between "Prometey" and "Alanta" met all the expectations of Ukrainian volleyball fans. Despite the fact that the game lasted only three sets, they were enough to get unlimited pleasure. And for the fans of the club from Kamianske, it turned out to be double, because today it was their team that triumphed.   
Even from the first minutes of the confrontation, an even and interesting fight took place on the court - 8:8, 15:15. It seemed that the closest to victory in the set was the team from Dnipro - 15:18, 21:23. However, "Prometey", in particular, thanks to the efforts of Marta Fedyk, who came on as a substitute, restored parity. In an incredibly tense ending, the "red and white" team celebrated the victory - 28:26.
"Swing" continued in the next game. Several consecutive aces by the aforementioned Fedyk helped our team lead by two points - 9:7. At the end of this period, Andrii Romanovych's team, thanks to excellent actions on the block, increased their advantage to seven points - 22:15. "Alanta" scored four points with the same element, but no more - 25:22.
The team from Dnipro started the third set better — 2:5. Yuliia Kaminska's serve "to the exit" forced Romanovych to take the second time-out in a short period of time — 4:8. After a series of mistakes by Gariy Yeghiazarov's team, the "red and whites" equalized the score - 11:11. "Alanta" noticeably lacked power in the attack, so in the end "Prometey" celebrated the victory - 25:23.
SC "Prometey": Polina Dziuba (18 ochok), Dariia Kaplanska (8), Mariia Kaplanska (3), Olena Rudyk (10), Kristina Starostenko (1), Kateryna Vasylieva (l) - starting six; Ulyana Kotar (6), Danute Stravinskaite (3), Anastasia Gorbachenko (2), Marta Fedyk (13).
"Alanta": Kateryna Silchenkova (7), Stanislava Parfonova (3), Mariia Lozinska (6), Mariia Protsenko (9), Yuliia Kaminska (14), Alika Lutsenko (l) - starting six; Lidiia Luchko (5).