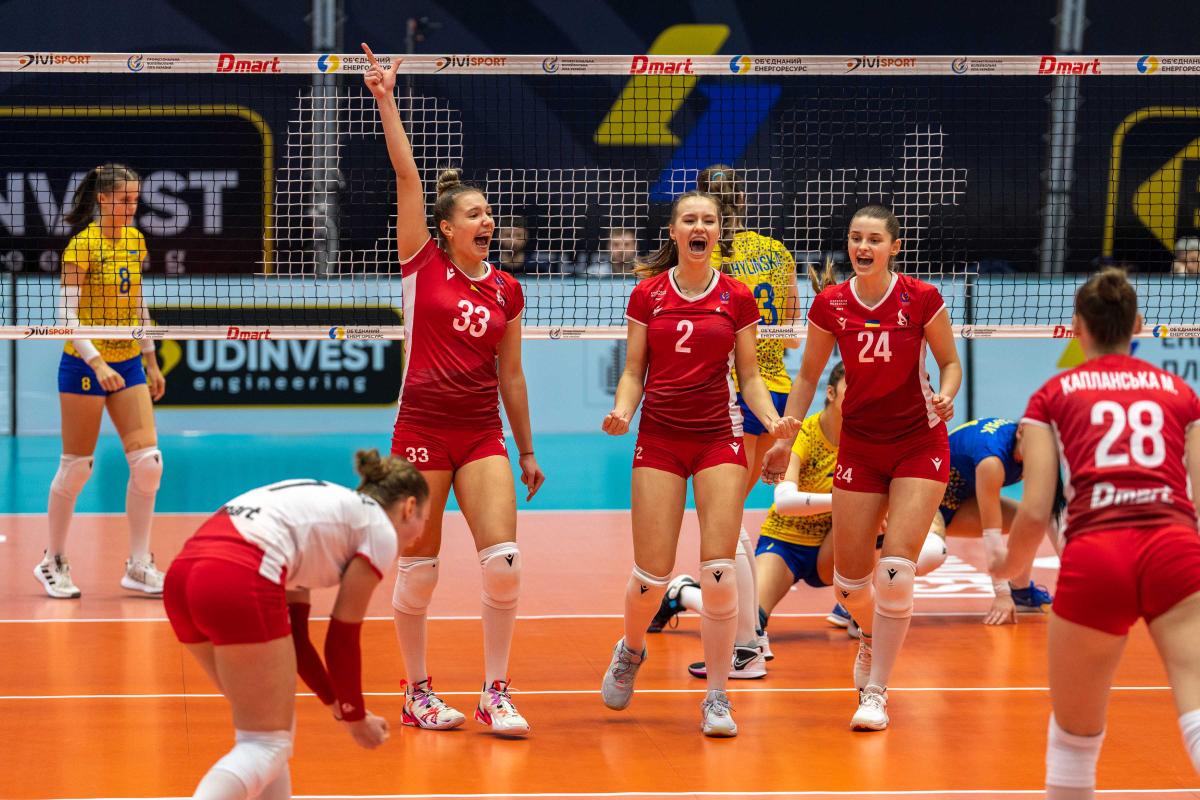 Women's Super League-Dmart. VIII round
Chernivtsi. "PVLU" Arena. January 29
The national team of Ukraine U-17 - SC "Prometey" 2:3 (27:25, 32:30, 23:25, 19:25, 11:15)
Even before the start of the match against the national team, Andrii Romanovych's team understood that it would definitely not happen. After all, their opponents today always come against the "red and whites" with a double motivation.
The first half of the starting set was an equal struggle. Next, the volleyball players of "Prometey" knocked out their rivals from the reception and secured a good handicap - 11:15. But then they were hit by a series of mistakes, which the visitors took full advantage of and leveled the parity - 24:24. The end was also in their favor - 27:25.
The second set turned out to be tense and full of emotions, as evidenced by the score on the scoreboard - 32:30. Unfortunately, in favor of the national team of Ukraine. Not everything went our athletes' way in this match. However, there was hope that after a long break, they would come to their senses. Still, the girls, albeit with problems, were back in the game, taking the third set - 23:25.
The previous triumph added confidence to the Kamianske team. For their part, the blue-yellow team, on the contrary, got psychologically hooked. This explains the nine-point advantage of "Prometey" — 16:25. On the tie-break, our athletes did not leave the national team any chance - 11:15.
"National team of Ukraine U-17": Polina Herasymchuk (5 points), Veronika Tverda (4), Kateryna Zhylinska (15), Bohdana Hrytsyk (22), Valeriia Kravchenko (9), Marharyta Heiko (19), Mariia Drapak (L) - starting line-up; Veronika Peknych (1), Mariia Nakoskina (3), Anastasiia Nedilko (0), Sofiia Khrystenko (0), Daria Makarova (L), Oleksandra Molchanova (6).
SC "Prometey": Polina Dziuba (16), Dariia Kaplanska (10), Mariia Kaplanska (2), Kristina Starostenko (8), Anastasiia Horbachenko (3), Kateryna Cherkashyna (2), Kateryna Vasylieva (L) - starting line-up; Danute Stravinskaite (6), Uliana Kotar (9), Olena Rudyk (3), Marta Fedyk (15), Yana Prokopova (L).